Odoo Accounting App
Accounting.
Accurate. Agile.

Get your accounting done right with the Odoo Accounting app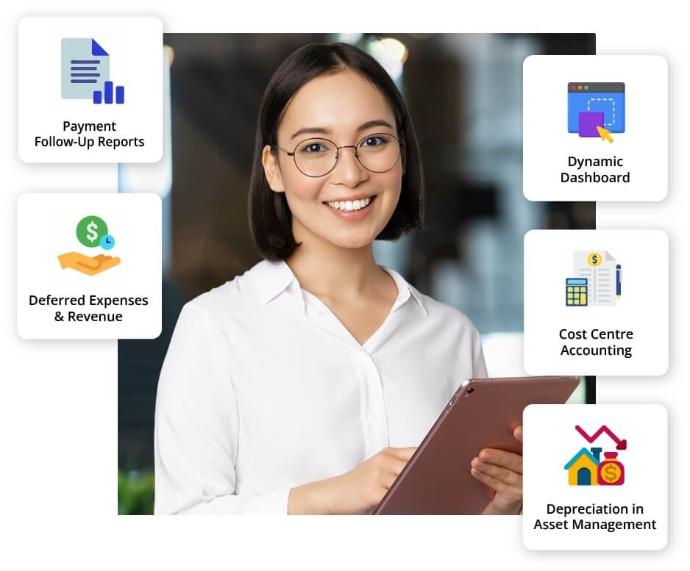 Optimizing Accounting Processes with Odoo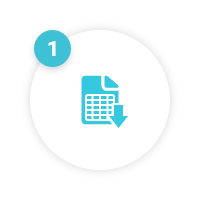 Reduce manual data entry and get more work done by having your financial transactions recorded automatically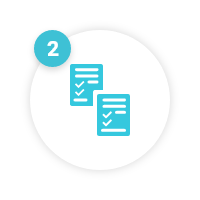 Smart reconciliation tool that allows automation of reconciliation propositions based on invoices or bank statements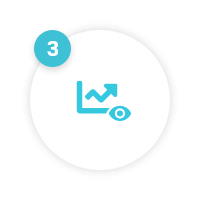 Access to accounting information easily with readily available performance reports (balance sheets, profit & loss, cash flow statement, etc.)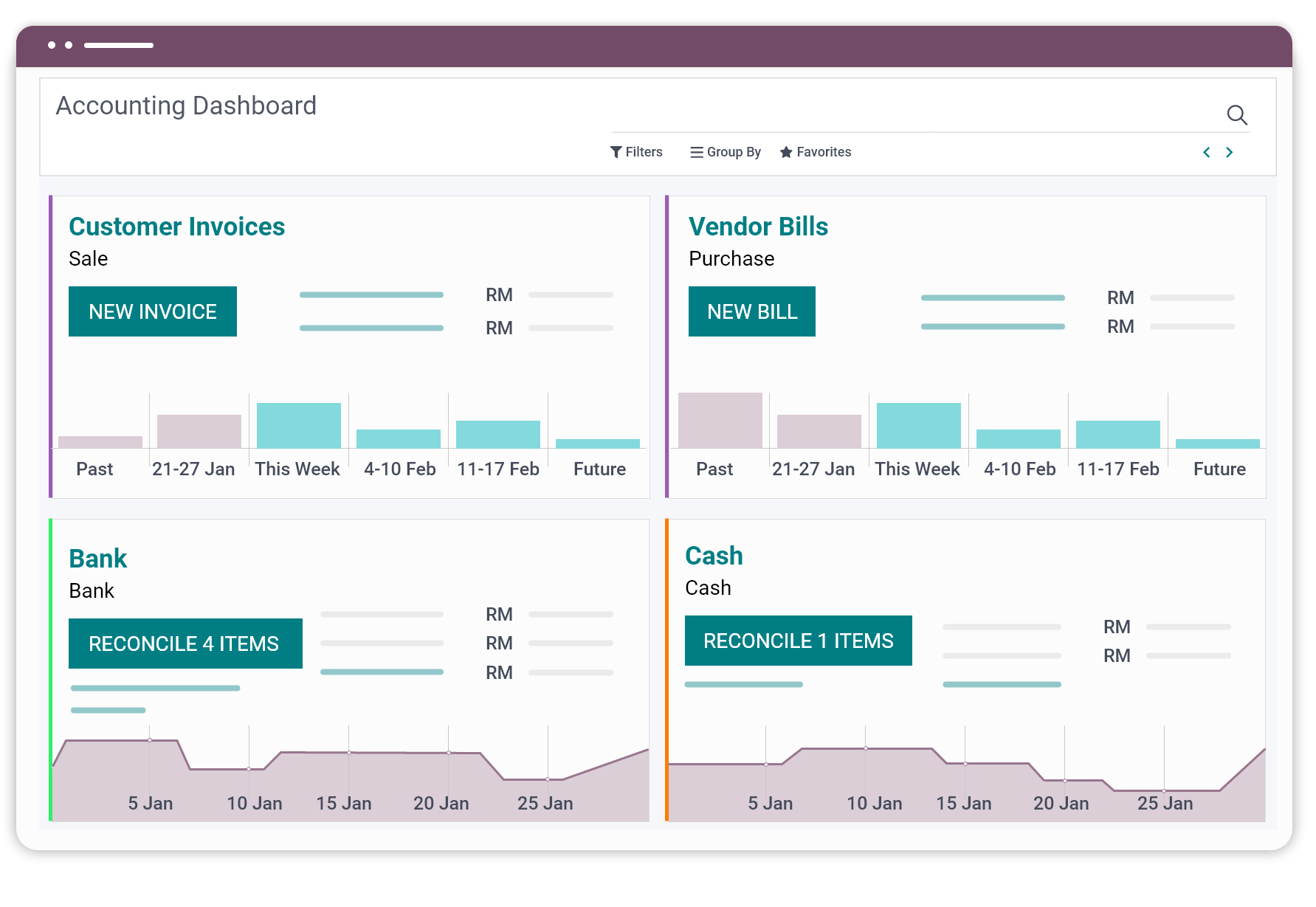 A Single Source of Accounting Insights
Dynamic Accounting Dashboard
Acquire real-time accounting insights with a customizable accounting dashboard.


Full visibility on key information of customer invoices, vendor bills, inventory valuation, and more in a single dashboard.


Provides an easier understanding of financial statuses through graphical representation.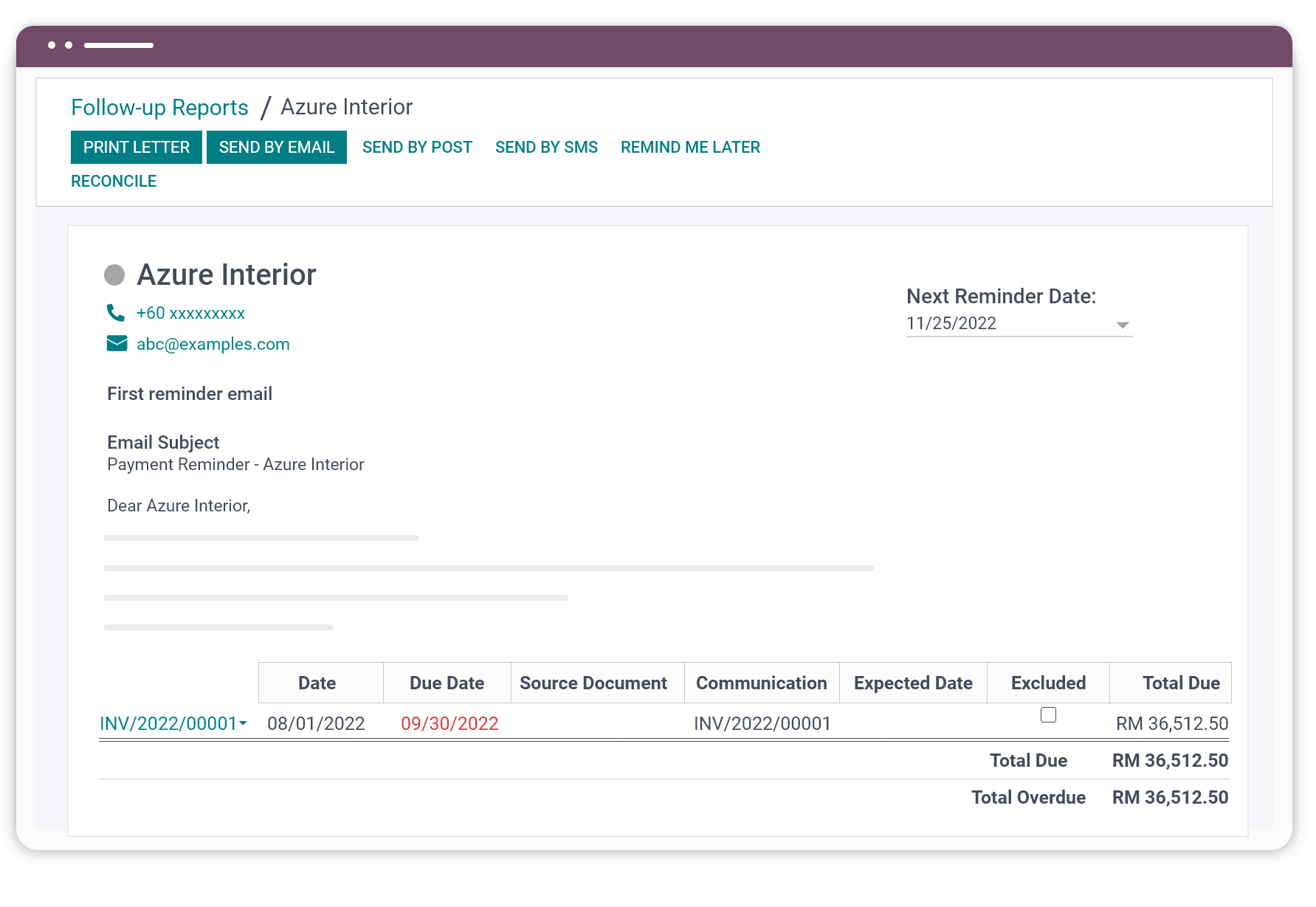 Ease Your Payment Collection Process
Payment Follow-Up Reports
Identify all overdue invoices and customers' total overdue amounts in one single report.


Automatically send out reminder emails to customers with overdue invoices by different follow-up levels.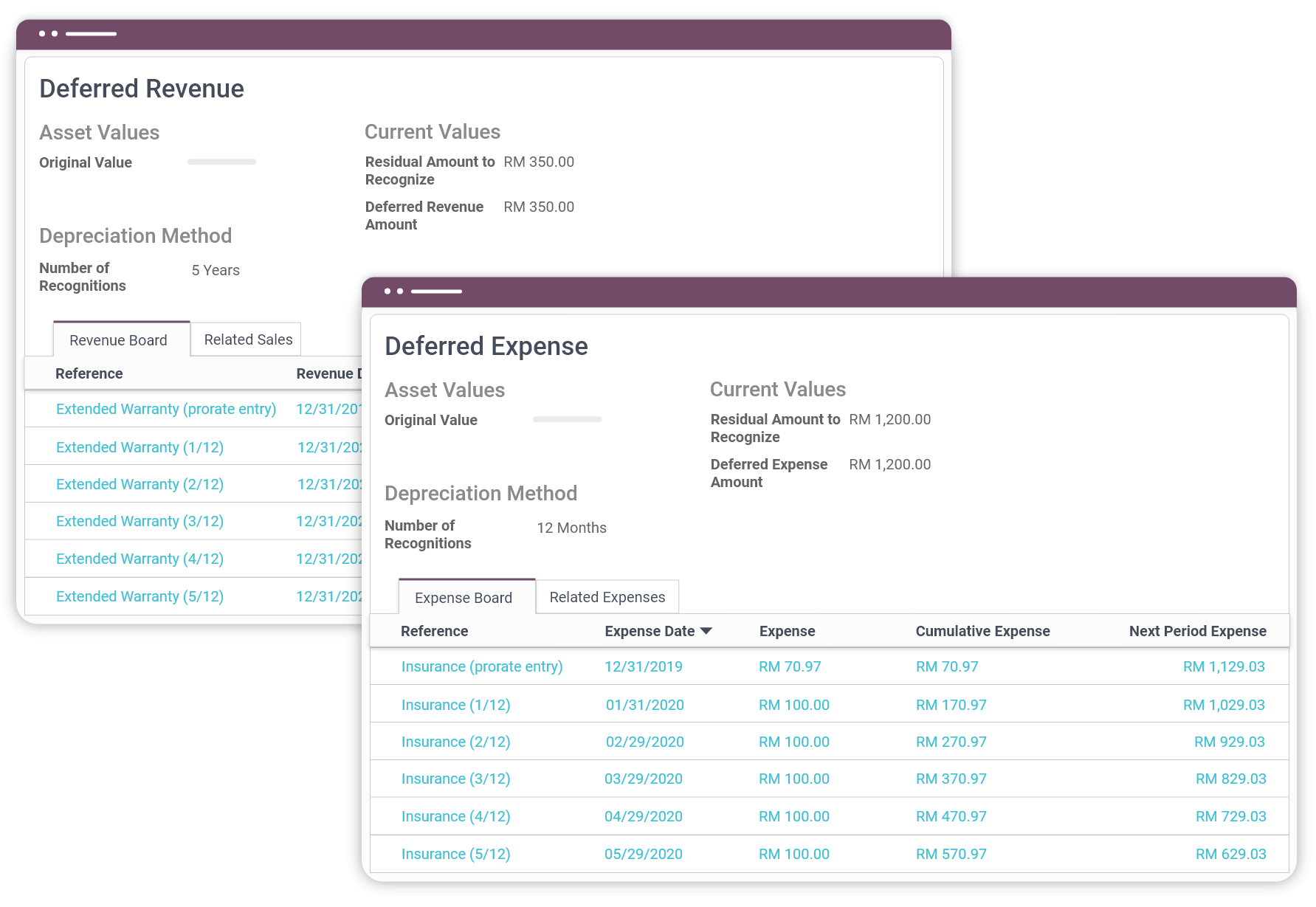 Report Company Assets & Liabilities Accurately
Deferred Expenses & Revenue Models
Report your deferred expenses and revenue reported accurately.


Easily generate deferred expenses/revenue in draft mode which will be posted periodically until the full amount is recognized.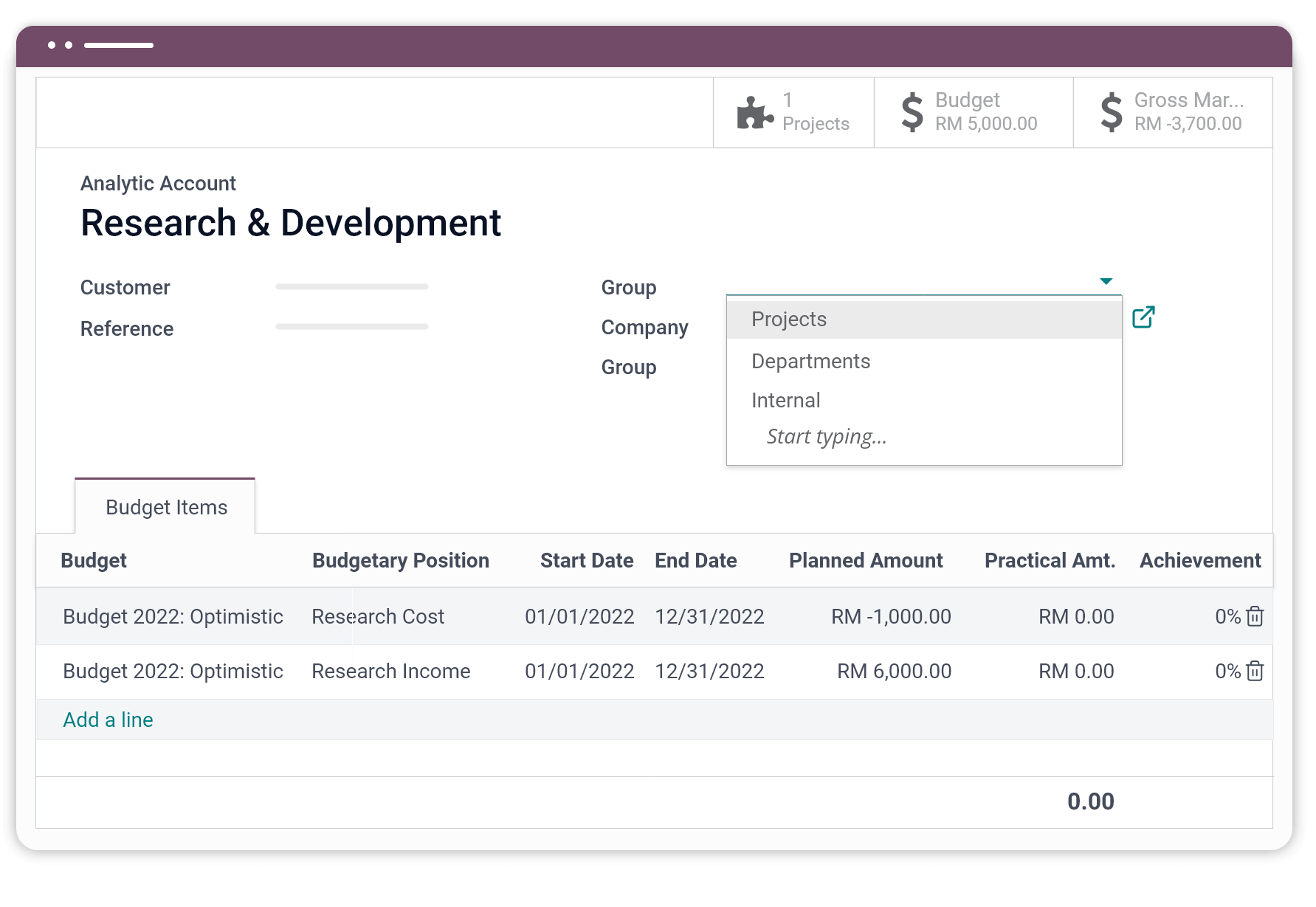 Manage Budgets The Proper Way
Cost Centre Accounting
Clear segmentation of expenses/incomes based on different projects or departments.


New entries will be allocated to corresponding analytical accounts automatically.


Control spending effectively with the comparison report between the actual amount spent and the set budget.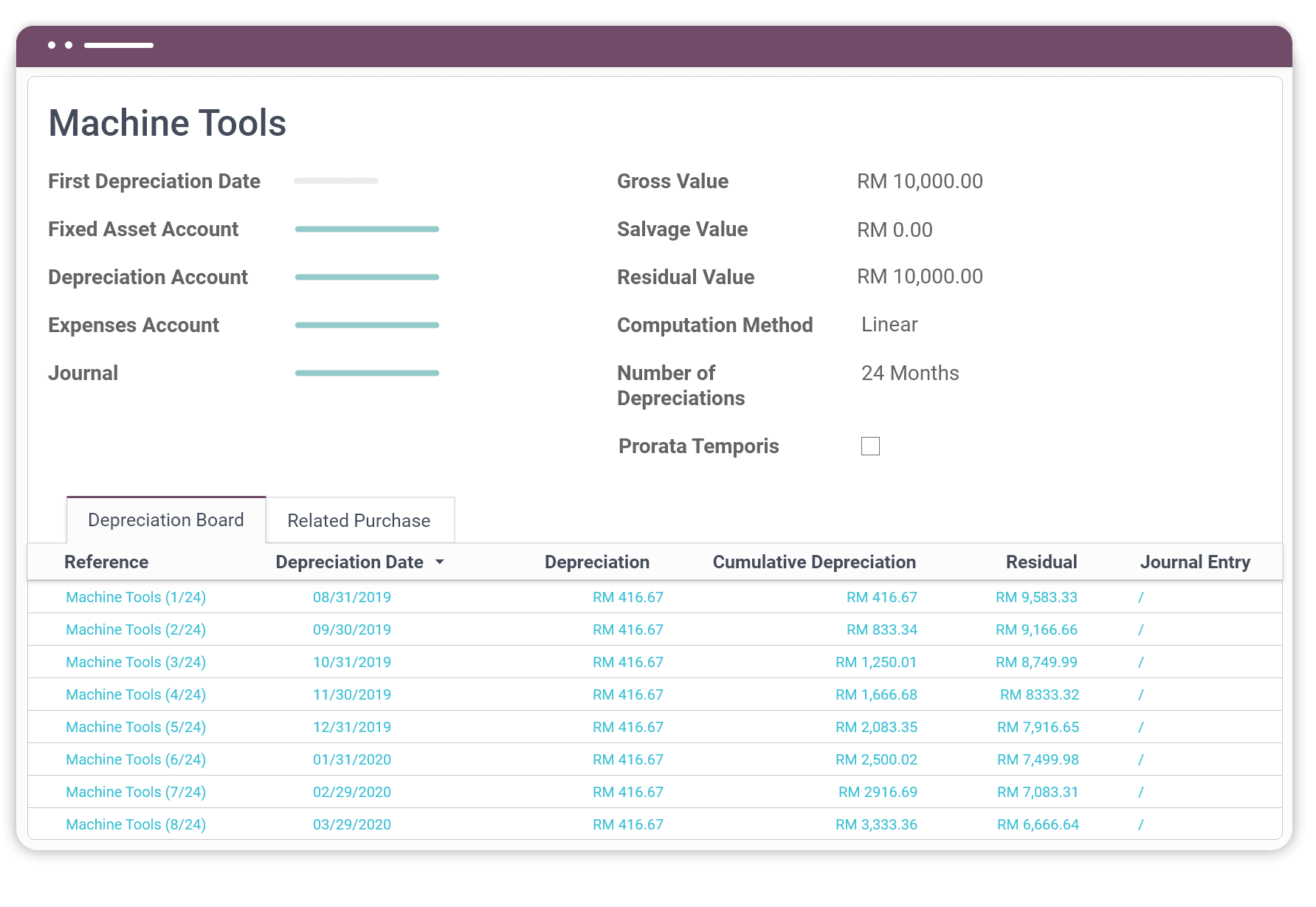 Precise & Accurate Asset Evaluation

Depreciation In Asset Management
Significantly reduce manual work and human errors by allowing asset values to be written off automatically by each month or year.


Accurately compute the salvage and residual value of services/products at the end of its lease term.
Additional Features
Other features from the Odoo Accounting app you might be looking for
​
Perpetual Financial Report
Clear financial overview to examine the cash flow, profit & loss, balance sheet, and financial summary of the company
​
Multi-company & Consolidated Account
Integrate all financial statements from multiple companies to create a consolidated set of statements
​
Budget Management & Analysis
Compare the actual expenditures or earnings to the budget set for each analytical account
​
Multi-currencies Support
Get automatically updated currency rates on a daily basis
Contact Us
Get more information about Odoo ERP from our experts now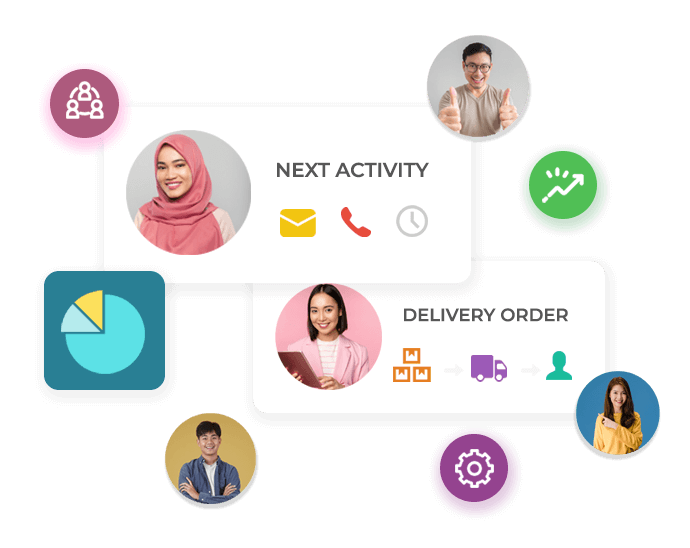 ​
Thank You!
---
​

Your message has been sent successfully
We will get back to you shortly.