Odoo Purchase App
Purchase. Powerful. Practical.
Make better procurement decisions with Odoo Purchase app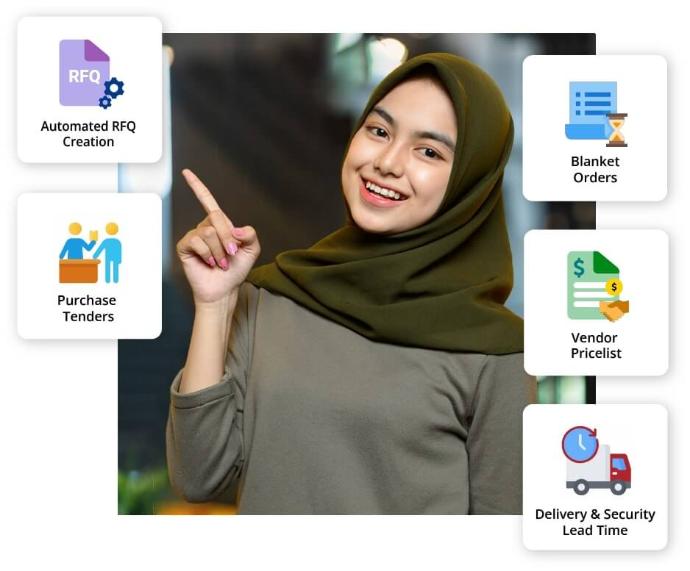 Automating Purchasing Workflow with Odoo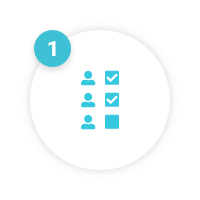 Select the potential vendor that offer the best price and quality from the vendor pricelist to make a purchase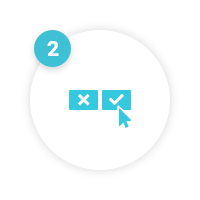 Request approval automatically after new quotation creation if the order exceeds minimal amount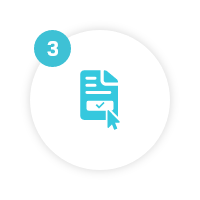 Confirm vendor bill with a single click after receiving the product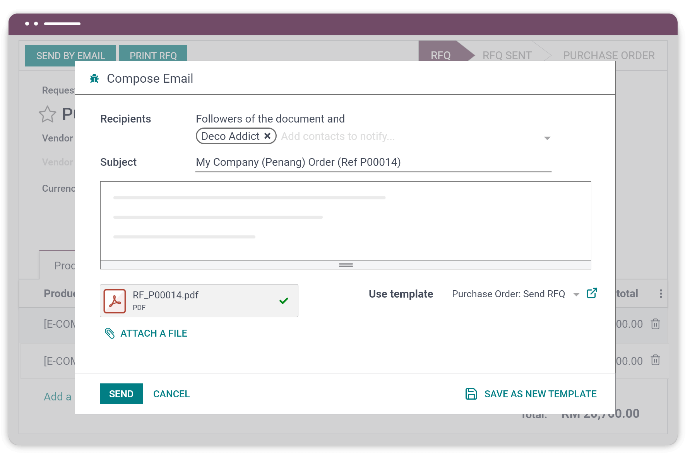 Keeping Stock At Optimum Level
Automated RFQ Creation
Easily maintain inventory at an optimum level with replenishment automation.


Automatically create and send out RFQs to suppliers according to stock levels.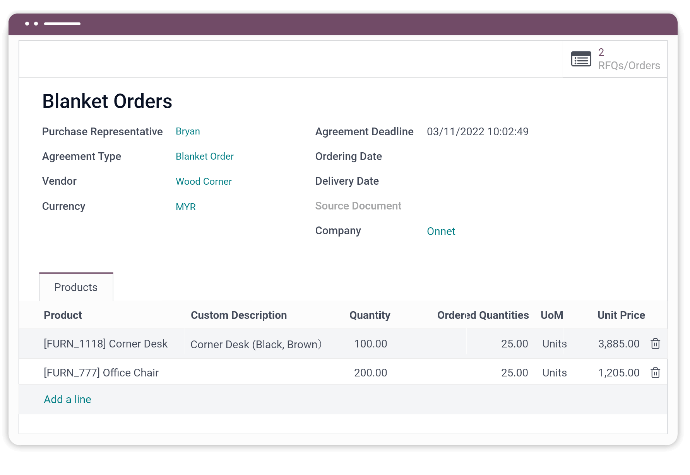 Secure Continuous Supplies
Blanket Orders Agreement
Purchase bulk products from the same vendor at negotiated prices on a regular basis.


Eliminate excessive stockpiling by offering several delivery dates from a single purchasing order.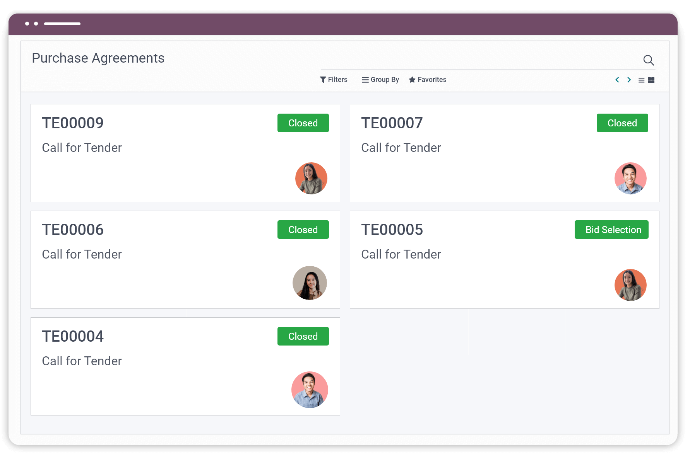 Negotiate, Compare & Get The Best Offers
Purchase Tenders
Easily identify and compare multiple vendor offers all in a single view.


Create and send out purchase orders to the selected best offer with just a few clicks.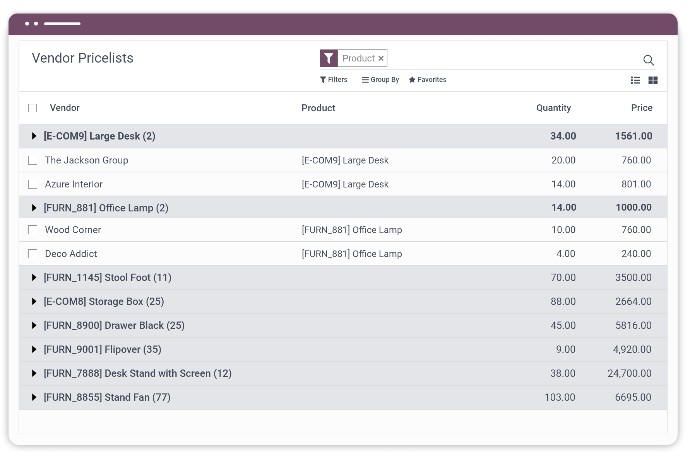 Keep Track of Past Purchase Prices
Vendor Pricelist
Record and track all past purchase prices of products from different vendors.


Make well-informed purchase decisions with key information like purchase prices, best deals, and delivery lead time.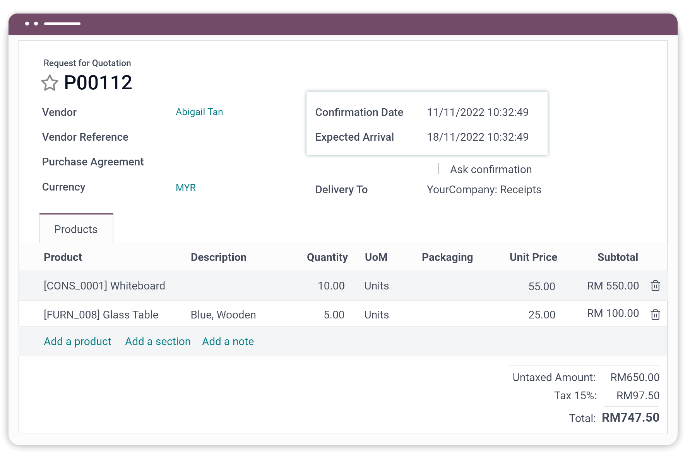 Plan Ahead with Receiving Date Visibility

Delivery & Security Lead Time
Estimate the time taken for products to arrive after order placement.


Effectively plan and ensure the products will arrive on time to prevent inventory stockout issues.


Enhance operational efficiency by planning ahead of time for manufacture and delivery.
Additional Features
Other features from the Odoo Purchase app you might be looking for
​
Vendors Record
Retrieve vendor details, history of purchases, and confirmed sales orders when needed.

​
Order List View
Identify the next action to be taken, billing statuses, amount to be collected, etc. for each purchase order in one view.
​
Reporting Dashboard
Get more insights that help with forecasting and making better decisions.
​
Send Message
Send out personalized email messages to the vendors directly from RFQs.
​
Delivery Confirmation Email
Create and send confirmation emails automatically upon product delivery confirmation.

Contact Us
Get more information about Odoo ERP from our experts now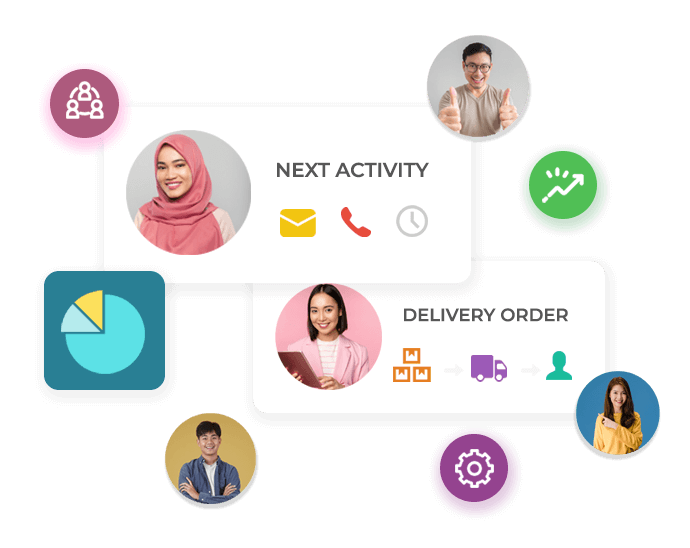 ​
Thank You!
---
​

Your message has been sent successfully
We will get back to you shortly.