Odoo VS SAP
Well, if you are running a business in Malaysia. You are in luck.

Both Odoo and SAP are popular ERP solutions for various industries in Malaysia, including wholesale distribution, retail, service providers and even manufacturing.

Odoo and SAP are designed to help your businesses manage the entire supply chain encompassing everything from sourcing materials to delivering finished products to customers.

However, deciding between Odoo and SAP can be challenging.

That's why we are here to help you understand the differences and choose the best fit for your company in Malaysia.

If you're considering Enterpryze as your ERP solution, it may be helpful to compare it with Odoo as well. Read this.


Compare Odoo and SAP
In this blog post, we will compare Odoo and SAP in detail to help you make an informed decision. We will cover everything from ERP system pricing models to ERP system implementation so that you can choose the right ERP solution for your business.

Here are 6 KEY FACTORS to consider when choosing the right ERP system for your business in Malaysia:
Pricing Models

System Flexibility

System Modularity

User Interface

Implementation Process

Customer Support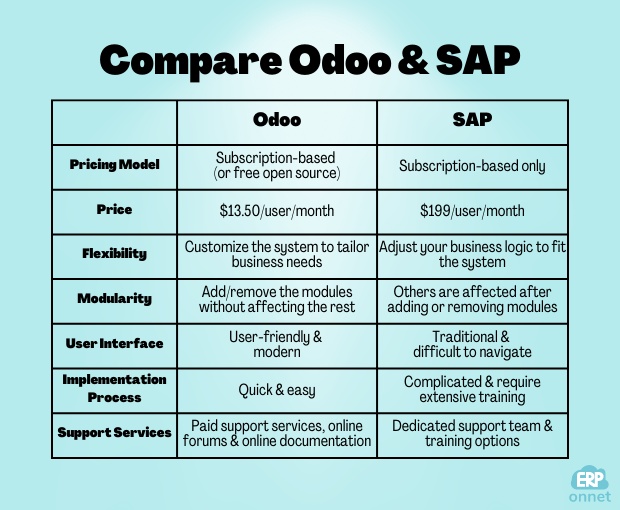 Pricing Models
Let's talk about the cost of an ERP system first. When comparing Odoo and SAP, there is a vast difference in pricing.

Odoo, an open-source platform offers a free Community version with some limitations. If you go for the full-featured Enterprise version, it is cheaper compared to SAP Business One. You are charged depending on the number of users and modules you need. You can expect to pay around RM 60.50 per user monthly for 50 users.


Whereas SAP can cost you up to RM 890 per user per month, which is almost 15 times more expensive than Odoo. And if you opt for SAP's S/4HANA, the costs can be even higher. Keep in mind that even basic functionality requires deep pockets, let alone customization, which can further increase costs.
System Flexibility
If you are a business owner in Malaysia, you know how important it is to stay flexible in a competitive market.

Odoo is super flexible, meaning you can easily adjust everything from the system interface to business workflows to suit your unique business needs. Odoo even has some features that you won't find in SAP, like barcode scanning, inventory routing, vendor pricelist management, and more, which are all super important for managing your supply chain.

SAP is great too, but it is more suited for organizations that need strict adherence to processes rather than flexibility. Its customization is a bit more complicated, and you may need to do a lot of coding and development work, which can be time-consuming and expensive. You might even have to adjust your business logic to fit SAP, which isn't ideal.
System Modularity
Both Odoo and SAP have a lot to offer businesses. But there are some key differences between Odoo and SAP in terms of modularity.

Odoo's modular design allows you to choose the features you need along with your business growth. This makes it a more cost-effective option for all businesses because you only pay for what you need. Plus, each module is designed to work in conjunction with other modules, making it easier to add new functionalities to the system as the business grows without affecting the rest.

SAP also offers a modular structure, but it is not as flexible as Odoo. SAP's modules are dependent on one another. This means that businesses cannot simply choose the features or functionalities they need and leave out the rest, making it difficult to customize the system to suit specific business needs.
User Interface
When it comes to ERP systems, it is important not to overlook the user interface. It can have a big impact on the efficiency of your team and the costs associated with errors.

Odoo's users have noted that the user interface can be clunky and difficult to navigate. But the good news is that Odoo is constantly working on it to improve the user experience through regular updates and enhancements.

In contrast, SAP's interface has been criticized for being outdated and not very intuitive. Some users have found it challenging to locate the features they need. It would be great if it were more menu-driven and easier to navigate.
Implementation Process
Before selecting an ERP system for your business, it is important to consider the complexity and duration of the implementation process that suits your needs and available resources.


Odoo, an open-source ERP system written in Python and consisting of modules, has a reputation for quick and easy implementation that can be completed within a few weeks. This makes it an ideal choice for businesses that want to get up and running quickly. You can also look for Odoo local partners in Malaysia like Onnet Consulting to ensure a smooth implementation process and ongoing support.

On the other hand, SAP's implementation process is more complicated and can take several months to complete. SAP requires extensive training and support during the implementation process, which can be time-consuming and costly for your business.
Customer Support
After successful ERP implementation, you want to make sure you have someone to turn to if you run into any issues, right?

Well, if you go for Odoo, you are in good hands. They have local partners like Onnet Consulting who can offer paid support services to help troubleshoot any issues you encounter after ERP implementation. Plus, their response times are guaranteed, so you can get the help you need quickly. Since Odoo's community is large, bugs are less likely to go unnoticed and will be resolved quickly.

SAP also offers paid support services too, but they are quite pricey. And sometimes, their support team may not dig deep enough into the problem, leaving you with a general solution. But, they do have online documentation available through their SAP Support Portal. So it really depends on what works best for your business and budget.
Should I Choose Odoo or SAP?
Choosing the right ERP system for your business is a big deal, and you want to make sure you get it right.

You will want to consider things like pricing, flexibility, modularity, user interface, implementation process, and customer support to determine which system will work best for your unique needs.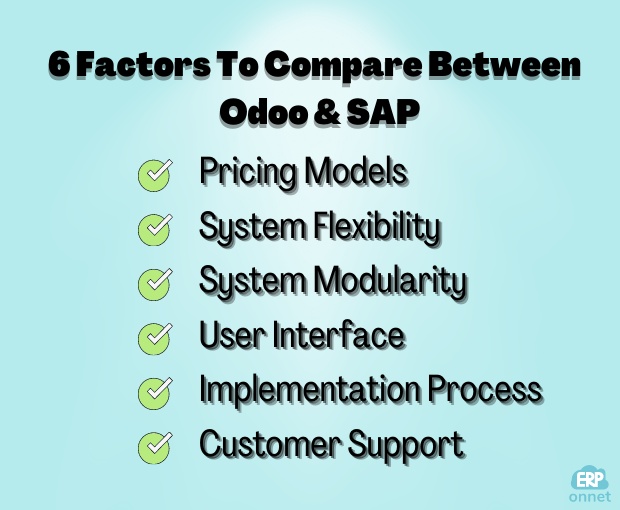 Both Odoo and SAP have their own strengths and weaknesses.

If your business has a larger budget and needs strict adherence to processes, then SAP may be the way to go, even though it has a steeper learning curve and is more expensive.

But, if you are looking for an ERP system that is cost-effective, flexible, and user-friendly, then Odoo could be the perfect choice for you.

Ultimately, the decision is up to you and your specific business needs, so take your time to evaluate all your options carefully.